20+ Fantastic Web Development Newsletters Worth Reading
20+ Fantastic Web Development Newsletters Worth Reading
If you are not one of those people Subscribing to them all will prove to be a little overwhelming and reading all of them will be extremely time consuming. So, here is a list of web development newsletter worth subscribing to.le who mark 'Read' or 'Spam' every newsletter they receive, if you actually spend time reading what you get in your inbox, this article is for you. You subscribe a newsletter and spend time reading it, but that's not. There is more interesting, even better stuff out there worth reading. Subscribing to them all will prove to be a little overwhelming and reading all of them will be extremely time consuming. So, here is a list of web development newsletter worth subscribing to.
Prep Your Inbox Before Subscribing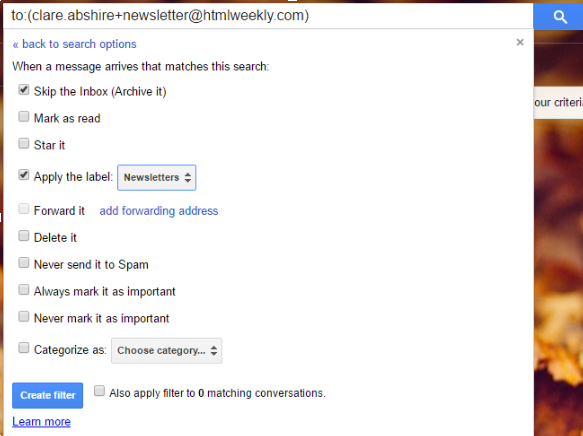 Wait… before you go signing up to all the newsletters. There is something you need to do. This is called ready your inbox for all the amazing reads.
For Gmail users, instead of using your personal email address, utilize the '+' symbol before '@'. While signing up, use an email address similar to this one "yourname+newsletter@gmail.com." Whatever sign of punctuation you have in your email id, it comes before '+newsletter'.
For example, your email id 'clare.abshire@gmail.com' will become 'clare.abshire+newsletter@gmail.com.'
Now, customize your settings to something like this. All the newsletters will get directed to a folder named 'Newsletters.'
Let's get back to the list of web development newsletters:
#1 JavaScript Weekly
This weekly newsletter contains fascinating articles and news about JavaScript. Even if you do not consider yourself an expert of JavaScript, you can still subscribe and you will not be disappointed.
http://javascriptweekly.com/
#2 HTML5 Weekly
HTML Weekly, as it is obvious, is a weekly newsletter consisting of top-notch, important content in the world of HTML5. If you want to see yourself well-informed about the up-to-the-minute developments of HTML, please subscribe.
http://html5weekly.com/
#3 SitePoint
SitePoint is a home of helpful and interesting articles, how-tos and tutorials. Any web designer or a web developer would be familiar with the website. Something you won't be really familiar with is SitePoint's newsletter. Even better for you, you can pick and choose from the topics you want delivered to your inbox. From Ruby to PHP, Design to JavaScript, you get a lot to choose from.
https://www.sitepoint.com/

#4 Responsive Design Weekly
The reason people steer clear of newsletters is that they crowd your inbox which is extremely annoying. However, these newsletters get delivered to you once a week or month, or even bi-monthly. If you are in search of a resource where you can get responsive tips regarding design, an array of tools to up your skills once a week, Response Design Weekly should be an end to your search.
http://responsivedesignweekly.com/
#5 CodeProject
CodeProject newsletter is delivered to your inbox once a week, containing great reading material for engineers and developers. Topics usually covered by CodeProject consists of programming languages such as PHP, JavaScript, C++, reviews, QA & Testing etc.
http://codeproject.com/

#6 Webdesigner Depot
This website is basically what every web designer should subscribed. With that out the way, WebDesigner Depot is an amazing website about web design and web development, which also excels in making cute comics about the said topics and curating news relevant to the field. Two words: sign up.
http://webdesignerdepot.com/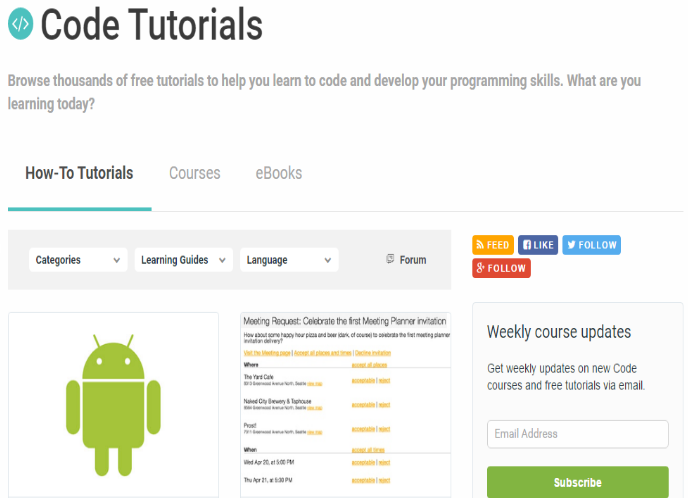 #7 CodeTuts+
If you are looking for another interesting source similar to the newsletter above, CodeTuts+ is what you need. You get tutorials, articles and reviews relevant to web development and fresh code courses in your mailbox every week by subscribing to CodeTuts+ newsletter.
http://code.tutsplus.com/
#9 Usersnap
The purpose of Usersnap newsletter is to help web designers and web developers better and more successful at what they do. This bi-weekly newsletter provides you with valuable and useful content about web designing and development.
http://usersnap.com/
#10 WpMail
wpMail.me is curated by WordPress and this weekly newsletter contains updates about developments, news, tutorials, articles and resourses all regarding WordPress. If you are a WordPress user is this sounds something useful to you, sign up.
http://wpmail.me/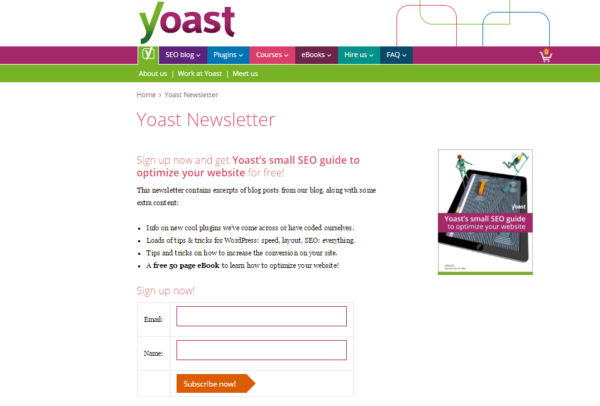 #11 Yoast
If you are WordPress developer or you use WordPress extensively, you must have come across plugins by Yoast. One of the most common plugin is SEO plugin by Yoast. By subscribing to Yoast newsletter, you get weekly, and at times, bi-weekly news and updates about the developments and valuable tips for WordPress.
https://yoast.com
#12 developerWorks
IBM engineers and developers take care of the developerWorks newsletter. A vast number of related topics are covered by this monthly newsletter – including Linux, cloud computing, Java among many others.
https://www.ibm.com/developerworks/newsletter/

#13 Ruby Weekly
Ruby Weekly contains up-to-the-minute updates and articles about Ruby and gets delivered to you once a week.
http://rubyweekly.com/

#14 DEVOPS WEEKLY
One a week you will receive a set of news and updates about Devop. Apart from that, a load of amazing tools and worth reading articles are included in the newsletter which will not bore you to death.
http://www.devopsweekly.com/

#15 The Smashing Email
This site delivers an actually smashing newsletter to your inbox containing topnotch content on a vast array of web design and web development related subjects. It is a bi-weekly newsletter consisting of an amazing set of articles you need to take a look at.
https://www.smashingmagazine.com/the-smashing-newsletter/
#16 The Messenger
The orat.io staff curates The Messenger newsletter which discusses messengers and bots. If you are fascinated by bot development, hit sign up.
https://orat.io/blog/

#17 TechRepublic Daily Digest
More into business-y stuff? Maybe TechRepublic is more your thing. Receive this daily newsletter full of summaries of the top-of-the-class Information Technology articles, news and updates by subscribing to TechRepublic Daily Digest.
http://www.techrepublic.com/
#18 CSS Weekly
Specifically for CSS, CSS Weekly newsletter contains experiments, tutorials and invaluable tools for CSS. Similar to HTML5, CSS Weekly is specifically for developers who are always in the learning process.
http://css-weekly.com/

#19 Foundersgrid
Not exactly a web development newsletter, Foundersgrid is an all-encompassing newsletter including news and articles about a broad variety of technology-related topics. According to their own definition, Foundersgrid calls itself a newsletter for founders of startups. Still, do not stop yourself from signing up to this newsletter. It is an amazing source of content on expanding your business.
http://foundersgrid.com/
#20 Foundcy
Foundcy newsletter tells you what others are reading. Interested? Fernando Martinez curates this newsletter for you, which provides the insider news about what is on other founders' reading list.
http://www.foundcy.com/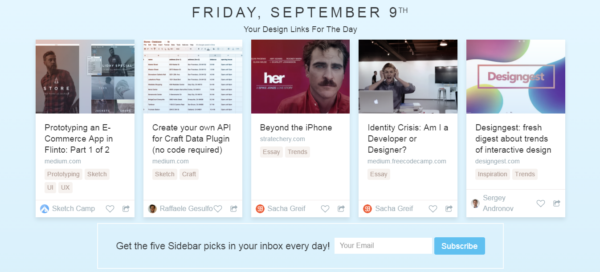 #21 Sidebar
Sidebar newsletter in cooperation with Yeah Local delivers to you a list of 5 top-of-the-class web design links. Newsletter is sent to the subscriber everyday, you can also opt for weekly newsletter from Sidebar.
http://sidebar.io/
#22 Think with Google
For all type of tech news and updates, Think with Google is your best resource. Case studies on technology and ecommerce, market researches, news and trends – Think with Google is your one stop shop.
https://www.thinkwithgoogle.com
#23 Level up! Newsletter
Ricardo Zea is the maker of Level up! Newsletter. It is made for designers and developers. Ricardo describes his newsletter as something to help web designers, developers and IT professionals, to 'level up' their expertise and ability. Apart from news, the newsletter contains tutorials and tool recommendations.
http://tinyletter.com/levelupnewsletter
#24 Fullweb Weekly
This weekly newsletter is directed towards stack developers. The newsletter consists of 5 valuable links for web developers, backend developers, and DevOps.
http://fullweb.io/
#25 HackingUI
Another educating newsletter, HackingUI is a weekly newsletter filled to the brim with information for front-end developers, articles about design, startups and a few great tips. You need to try it out!
http://hackingui.com/
#26 Pycoder's Weekly
Pycoder's Weekly is a newsletter fit for people who have an interest in Python or who are going to learn Python. This invaluable resource is sent out every Friday. News articles and updates and trends about Python is what this newsletter consists of.
www.pycoders.com
Hope you found this list helpful – if you did, we will call it a job done! If you know about any other newsletters as or more useful and valuable as the ones in the list above, do comment below with your suggestions.
Share This